Slipcase
The slipcase encloses is crafted from high-density binder's board. The standard slipcase is covered in durable Summit/Buckram cloth, available in a variety of colors.  Additional materials are available for an up-charge.  View our selection.  Titling is foil stamped directly onto the cloth.  Minimum thickness for a slipcase is 3/8″.
Pricing starts at $40.00. Bulk pricing available. Contact us for a quote!
Using a Slipcase
Handcrafted, Custom Fit
Archival Protection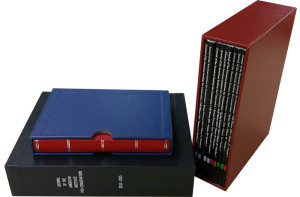 We use high-density, acid free binder's board to construct our enclosures.  Our PVA adhesive meets library binding standards for long term stability.  The slipcase is constructed of acid free board.  The custom fit of the slipcase helps protect items while allowing easy access and a clear view of the contents.
Edition Sets
Single vs. Double
Notching
Titling

Standard foil stamping is available in black, white or gold.  Additional colors and fonts are available via our special print upgrade.  We also offer foil stamped, laser printed and genuine leather labels.
Slipcase Order Forms