KASEBoxes
KASEBoxes are archival boxes used to effectively and economically protect brittle or deteriorated volumes. They are custom made out of archival corrugated board, available in eflute and bflute. The base product is shipped blank and flat. Folding and titling is available for an additional fee. Standard titling is printed in ink directly onto the board. KASEBoxes are available in two standard styles: the KASEBox clamshell and the KASEBox portfolio. Unless otherwise requested when KASEBoxes are ordered, any items ordered as KASEBox clamshells but under the minimum thickness are automatically put into the KASEBox portfolio design. KASEBoxes are also available in the following specialty styles: the KASEBox telescoping lid box, the KASEBox slipcase (available only in bflute) and the KASEBox phase box. The minimum thickness for KASEBox clamshells and KASEBox telescoping lid boxes is 3/4″ in eflute and 1 1/4″ in bflute. The minimum thickness for KASEBox slipcases in bflute is 3/4″. The KASEBox portfolio and KASEBox phase box designs have no minimum thickness.
Pricing starts at $8.50. Bulk pricing available. Contact us for a quote!
Custom Fit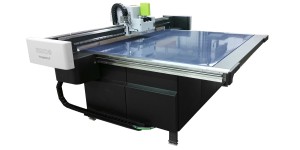 Every KASEBox is cut on a Kongsberg X20 digital plotter to fit each individual item perfectly.  Email us the measurements using our convenient order spreadsheet.  Worried about measuring your items correctly?  View our Tips on Measuring, or contact us to arrange shipment of your items to our facility so we can do the measuring for you.
(Almost) No Box Too Big or Too Small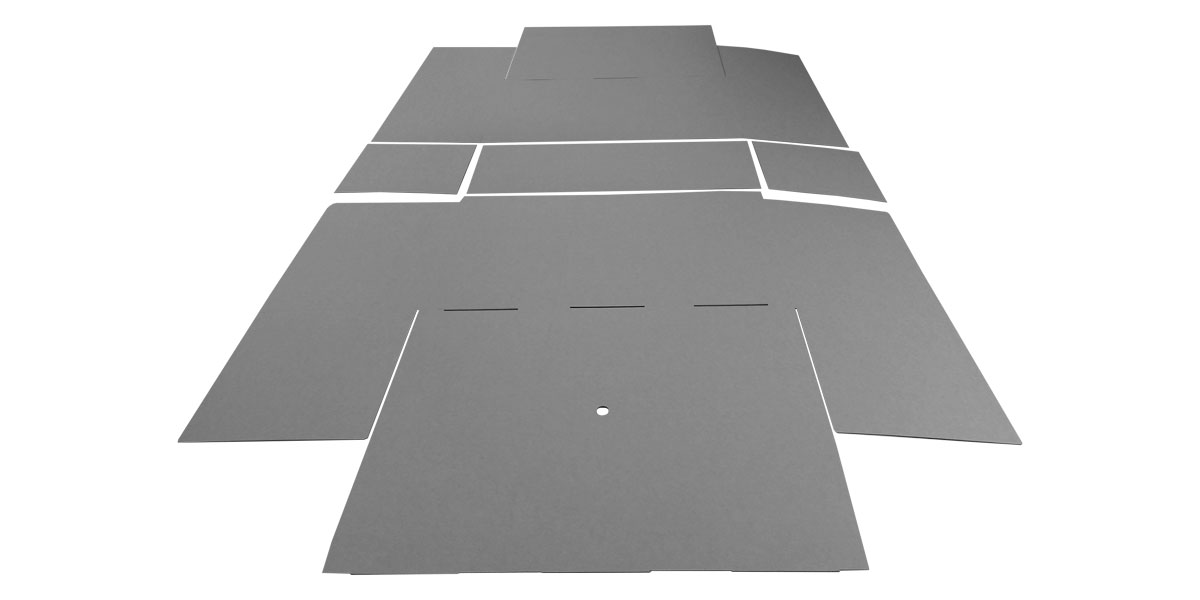 While there have been boxes that are too big or too small for us to make, we rarely run into that problem.  Even items that are larger than our sheets of board can be pieced together.  Additional fees may apply for these monster boxes, but we love a challenge.
Archival Protection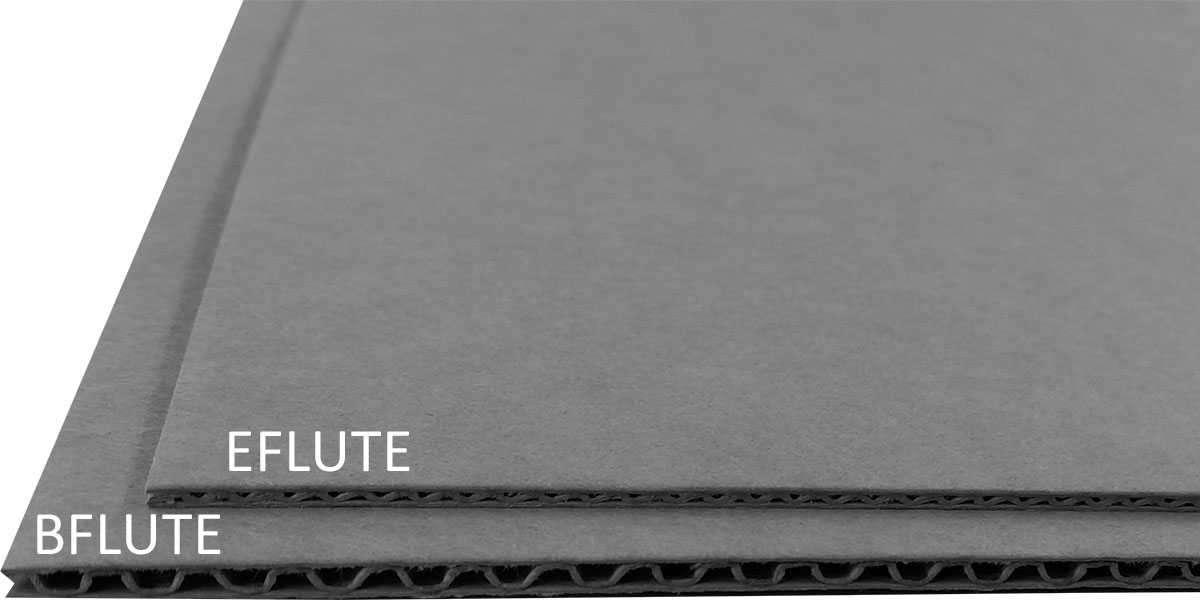 We offer a thin eflute board to maximize storage space and a more robust bflute for maximum protection.  Both of our boards are made of an archival corrugated board that has an 8.5 pH and 3% alkaline reserve.  Both boards have passed the Image Permanence Institute's Photographic Activity Test (PAT), (ISO Standard 18916), and are safe to use with photographic albums.
Bulk Discount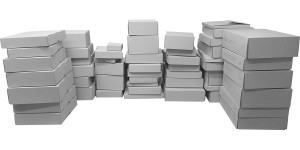 KASEBox orders over 100 pieces receive a 10% discount off the base cost of the enclosures.  KASEBox orders of mixed styles (clamshell, portfolio and phase box styles) count the total number of enclosures when calculating this discount.
KASEBox Clamshell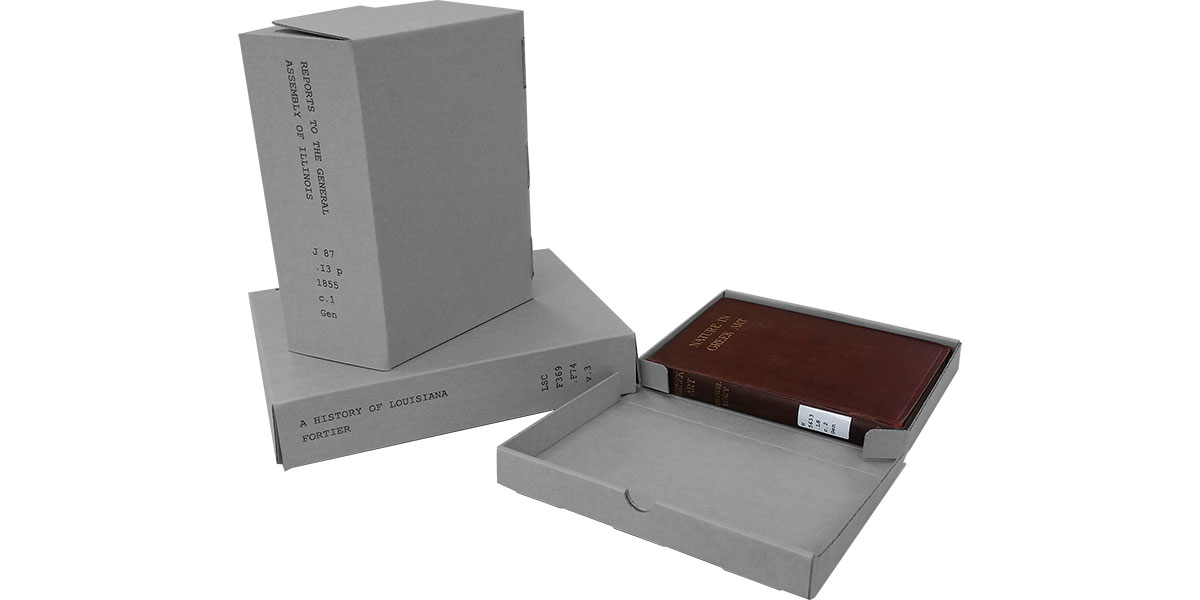 The KASEBox clamshell is a double tray clamshell style enclosure. It is a compact design that combines ease of access with archival durability. The minimum thickness for KASEBox clamshells is 3/4" in eflute and 1 1/4" in bflute. By default, any item under this thickness in an order is placed in the KASEBox portfolio style.
KASEBox Portfolio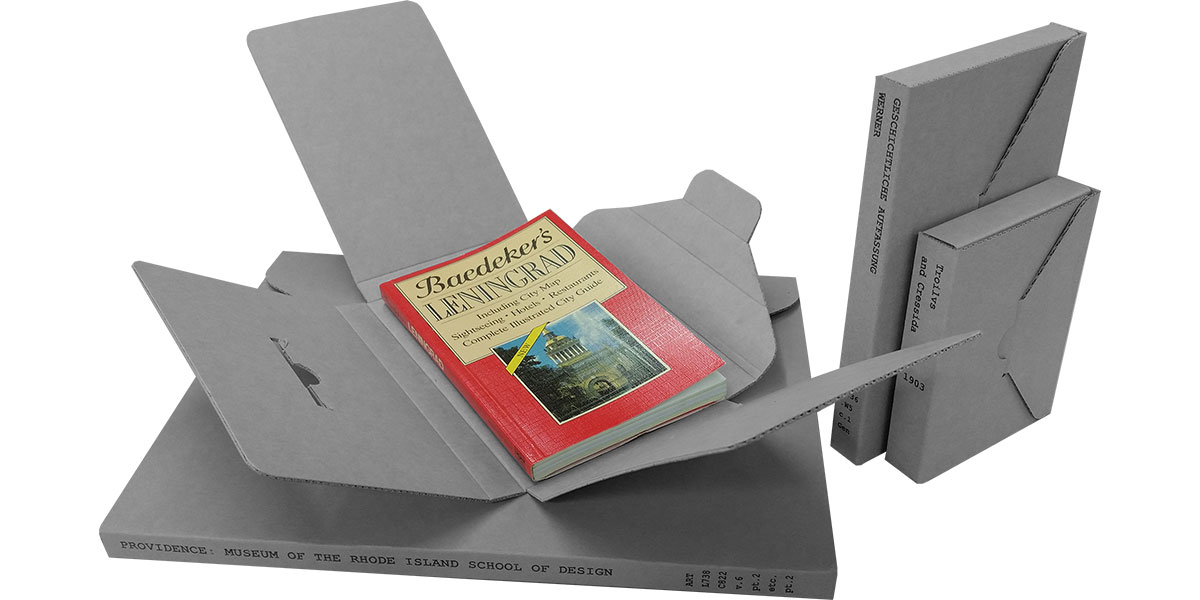 The KASEBox portfolio is a four flap enclosure held closed by a slot and tab design.  Two inner flaps protect the item from the tab's insertion.  The two inner flaps are made as half-flaps for items over 9" tall.  Full inner flaps for larger items are  available upon request.
KASEBox Telescoping Lid Box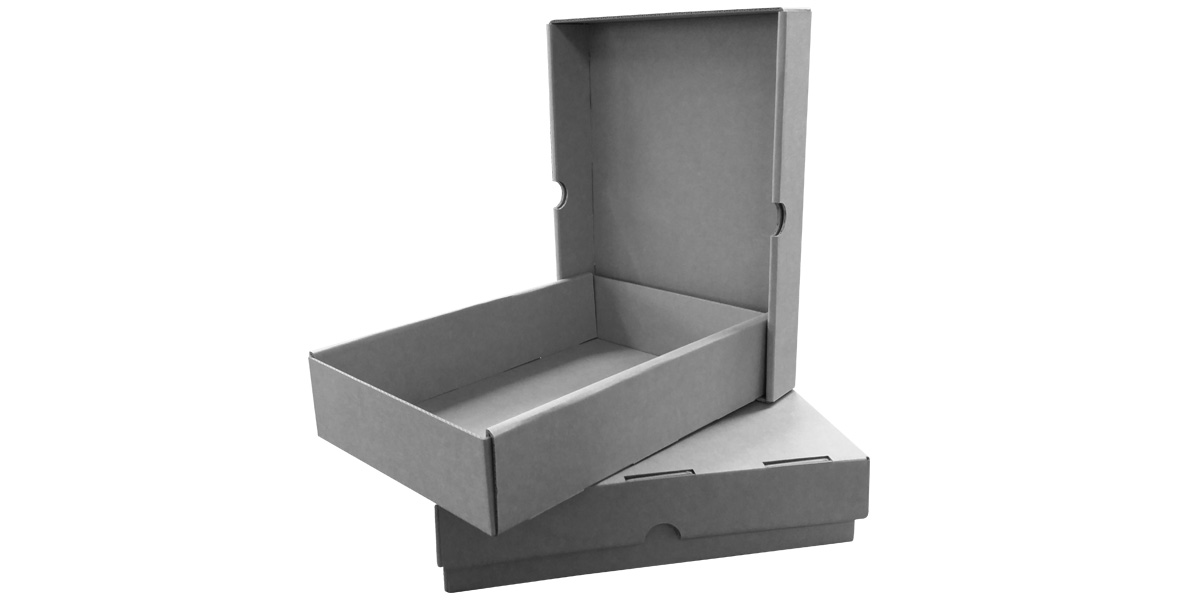 The KASEBox telescoping lid box is a two-piece lid and tray design that provides additional layers of board for maximum protection. The bottom tray of the telescoping lid box can be made with a drop front that allows additional ease of access to the materials held within. The minimum thickness for the KASEBox Telescoping Lid Box is 3/4" in eflute and 1 1/4" in bflute.
KASEBox Slipcase
The KASEBox slipcase is an economical alternative to the standard cloth covered slipcase. Several layers of board at the top and bottom of the KASEBox slipcase and locking tabs create a durable and safe storage option for even the heaviest item. The KASEBox slipcase is only available in b-flute and its minimum thickness is 3/4". The KASEBox slipcase is available both notched and not.
KASEBox Phase Box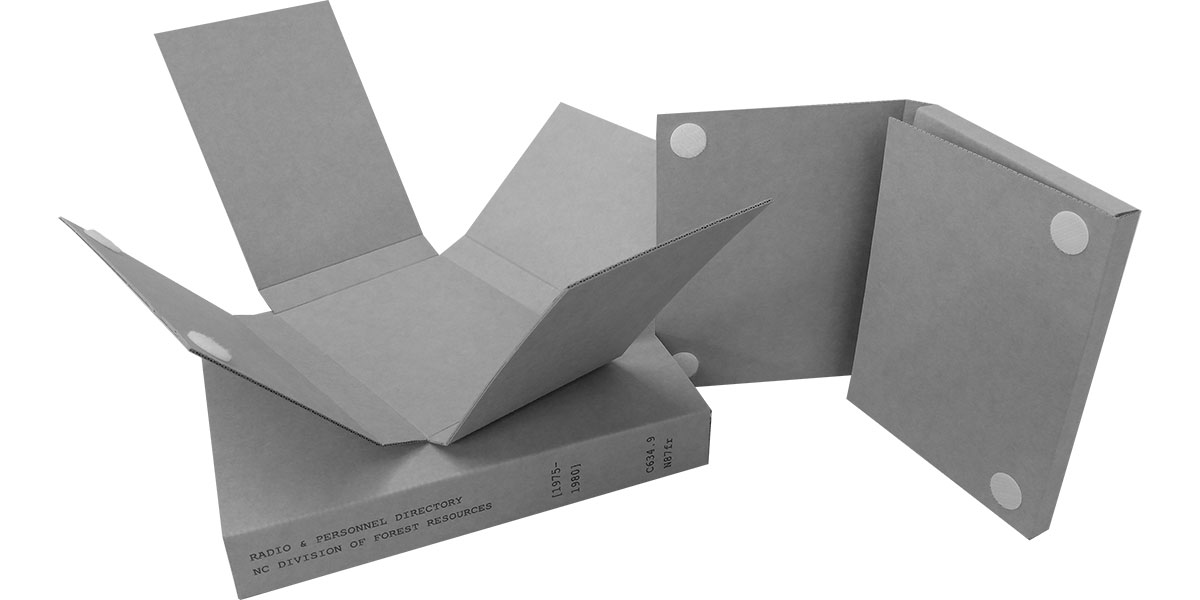 The KASEBox phase box is a four flap enclosure held closed by hook & loop buttons.  High-shear acrylic adhesive make our hook & loop button closures an economical but strong closure style.
Deluxe KASEBox Upgrade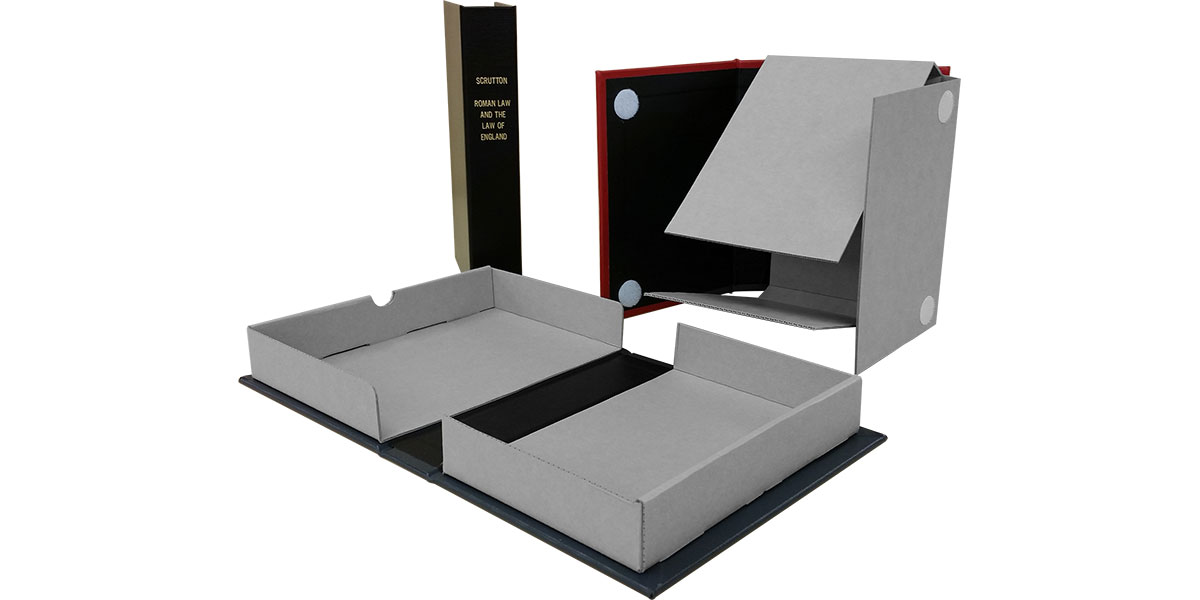 An acid-free, high-density binder's board case provides additional protection for items enclosed in KASEBoxes.  The standard case is covered in durable Summit/Buckram.  Natural finish bookcloth is available for an additional charge.  View our color selection.  The inside of the case is lined with black C-cloth.
Specialized Support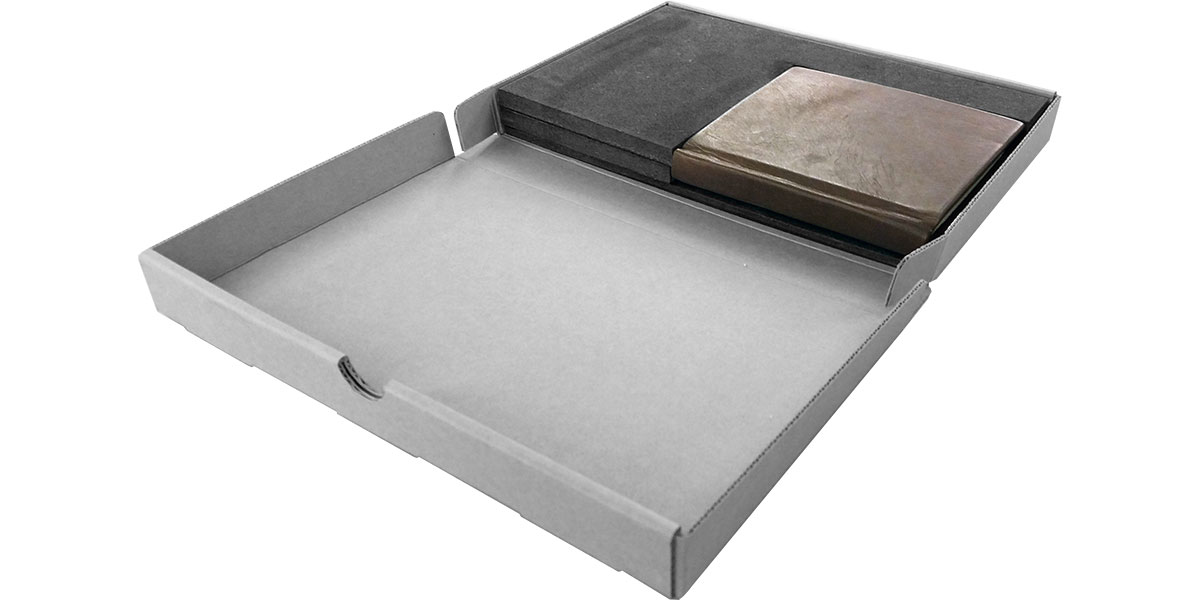 We offer additional options to provide full protection for your valuable items.  The foam build ups can be added to support items that are too thin or are uniquely shaped.
Titling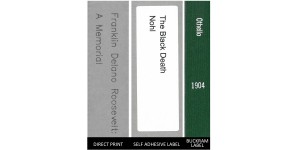 Standard titling is directly printed in ink on the board.  We also offer self-adhesive labels and Summit/Buckram labels.
Design Services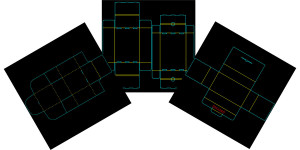 Have a unique request?  The ArtiosCAD software suite allows us to design new enclosures with ease. Contact us for more information on making the perfect enclosure for your special project.